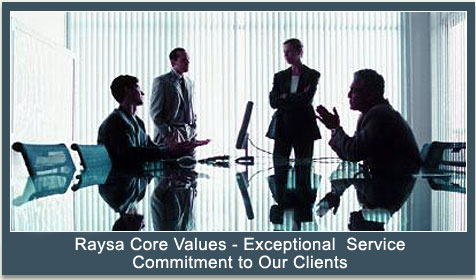 Company Mission Statement - Provide exceptional IT Services.

Our Vision - Ensuring our clients realize the benefits from their IT Business and Operation Systems.

Service Commitment to Customers - Raysa's business model is to look to each project as a step towards a long term business relationship. Our goal is to ensure that our clients see value in our work and have them look to our people as the ones they can count on.

Our Values and Culture - Health and Safety is always first priority, Holistic approach to IT services, Commitment to finding innovative solutions, Respectful and courteous in all engagements, Collaborate and team with all stakeholders, and Provide an environment for employee growth.


---